Joining
How to Join
The club is now full for this year, if you are interested in joining next academic year please check back here nearer the time for more details.
When we have membership places available they can be purchased from the Archery page on the Loughborough Sport website. To join you will need to log in with your university credentials, and add club membership to your basket. When you reach the checkout you will also need to purchase membership to the Athletic Union (if you do not already have it).
There will be three membership options available on the website: Beginner, Experienced and Alumni. If you are a new archer (someone who has not shot before except at summer camps, have-a-goes, etc) then you should purchase the Novice membership. If you have been a member of an archery club before (either at Loughborough or anywhere else, or held insurance with an archery governing body, e.g. AGB) then you should purchase the Experienced membership. If you have graduated from Loughborough and are no longer a current student then you should purchase the Alumni membership. Please note that the Alumni membership option will not entitle you to AGB membership through the club, as this is only available for current students. You will therefore need to affiliate to AGB directly, or through another club.
If you are not sure which membership option to purchase, please email us:lsu-archerycommittee@lists.lboro.ac.uk. Or contact us through our Facebook Information Page.
Club clothing is also available for purchase on the same page, we recommend all members purchase at least a polo shirt for wearing at competitions and club events. Once you have joined the club, please familiarise yourself with our Constitution and Code of Practice.
Beginners' Course
This year's Beginners' Course will run for 6 weeks on Mondays (8:30pm-10:30pm) starting on Monday 7th October. We require new members to attend all 6 lessons to learn the required techniques and develop their skills. You will also have the chance to try different bow styles and participate in a practice competition.
We have an experienced coaching team, led by former GB Junior Squad Coach Maggie Squires and Archery GB Level 2 Coach Ashleigh Cowie. The coaches will be on hand throughout the course to assist new members, and will continue to provide assistance after the course has finished.
Benefits of Membership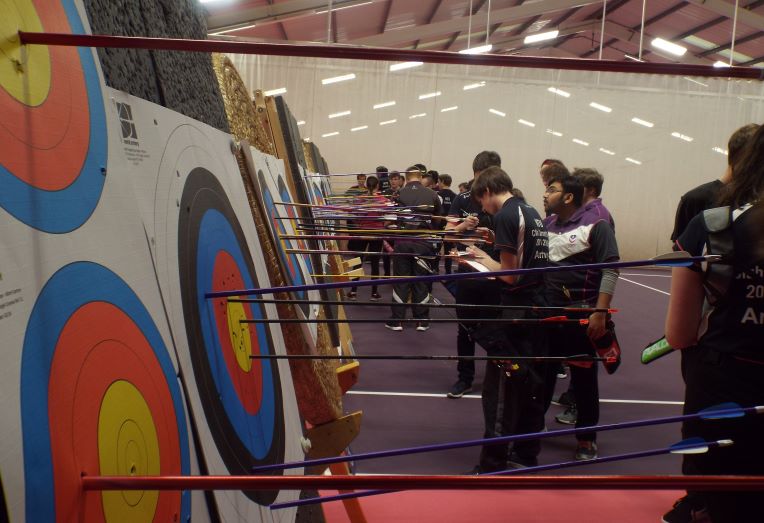 The club can, and has, catered for all standards of archer from complete beginners to international level archers. We provide all the equipment that you'll need to start shooting. All archers are encouraged to shoot in competitions but don't worry about your scores as they will increase amazingly quickly. We compete regularly in a local league of 9 university clubs called the BUTTS League; and at 3 BUCS Championships per year (2 indoor and 1 outdoor).
We train 4 - 6 times per week, members are welcome to attend as many sessions as they like, although those who attend more sessions tend to progress much more quickly. During the first two terms we shoot indoors in the Dan Maskell Tennis Centre (see photo). During the summer term we shoot mainly outdoors on Towers Pitch, with one session per week continuing indoors.